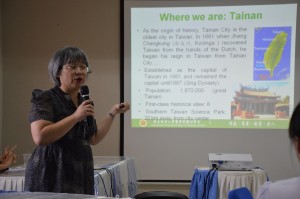 Representatives from Nursing Department, College of Medicine, National Cheng Kung University (NCKU) – Taiwan visited STIKES Bali on the 23rd December 2014 to promote the Master Degree: International of Advanced Nursing Program in NCKU. Professor Yen, Miaofen (Director of Nursing Department) who was accompanied by Dr. Carol Lin (Representative of International Office) delivered a presentation about the Master program to all faculties of STIKES Bali.
STIKES Bali and NCKU have started to establish international cooperation in 2013 on student and faculty exchange program and now STIKES Bali is eager to expand the partnership by sending its faculties to NCKU to pursue a higher degree of education.
There has been a great interest among faculties of STIKES Bali to pursue further education in NCKU, thus the Head of STIKES Bali and the President of STIKES Bali Foundation have encouraged all faculties to prepare themselves, especially improving their English proficiency to meet the required standard at NCKU.